Ice Cream Carts for Hire
Our ice cream cart can be hired independently or in addition to our mobile gin bar - The Copper Still Bar - currently being commissioned for numerous events throughout Dorset and Hampshire.
The bespoke ice cream tricycle has been professionally designed and built to an exceptionally high standard and always proves to be a very popular addition to any special day. Your ice cream trike comes with two friendly, professional staff who will serve your choice of flavours and toppings in a delicious sleeved waffle cone or tub.
Your ice cream cart will be filled with the very best ice cream! Purbeck Ice Cream is produced in Dorset using all fresh and natural ingredients. This delicious ice cream is naturally made with no artificial additives, colourings or nuts. All your guests will be catered for and can indulge in this treat as the ice cream is gluten free, egg free and suitable for vegetarians.
If you make a booking and live locally we invite you to a free sample taster session where you can decide which of your favourite ice cream flavours will be included. A very tough job!
We always deliver an excellent and personalised service, passionate about what we do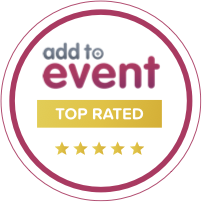 Ice Cream Cart Packages
Up to 100 Guests £400 (5 Flavours)
Up to 150 Guests £450 (5 Flavours)
Up to 200 Guests £500 (6 Flavours)
250 Guests or more
please get in touch